Home

/

Arandell Auto Air Sanitiser Total Release 300ml Each DG2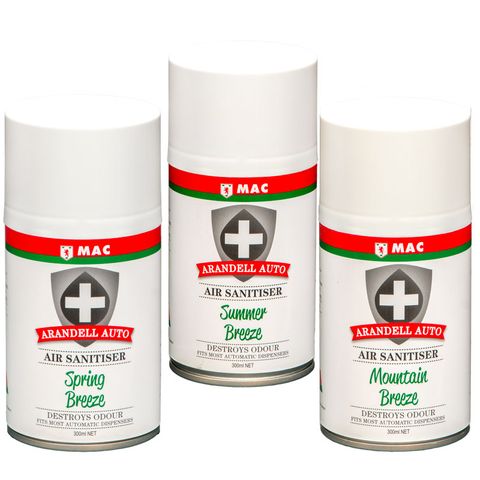 Arandell Auto Air Sanitiser Total Release 300ml Each DG2
Description
Destroys odour caused by bacteria, sanitises and freshens the air. MPI approved C102
MAC Arandell Auto Air Sanitiser destroys odour causing bacteria and leaves a clean fresh fragrance in the room. Set and forget metered dose valve.
FEATURES
Neutralises strong organic odours, pungent chemical fumes, smoke fumes and unpleasant animal odours
6000 metered shots (50µl) per 300ml can
Micro mist and dry spray technology improves efficacy
Eliminates odour – actively sanitises air it is not an 'air freshener' which simple masks malodour with fragrance
Utilises a patented active ingredient which binds to malodour rendering inactive
Used by DHBs and professional agencies throughout New Zealand
Currently available in 5 pleasant fragrances – Mountain, Spring Summer, Linen & Frangipani with Ocean, Lavender, Citrus & Jasmine on its way!
Bespoke fragrances and fragrance free toll manufacturing options
Also available in 500ml space spray
APPLICATIONS
Auto dispenser format
Set and forget
6000 metered shots per can
APPROVALS
MPI approved C102
AsureQuality approved
Downloads