Home

/

GREEN HYGIENE DISINFECT PINE 225ML CONC REFILL FOR 5L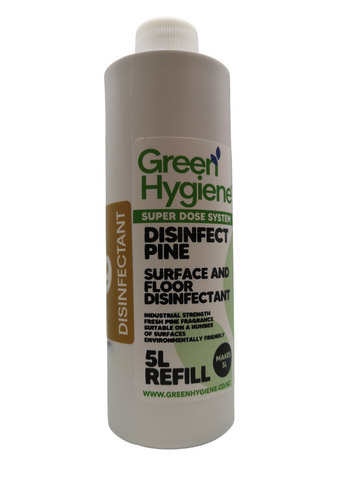 GREEN HYGIENE DISINFECT PINE 225ML CONC REFILL FOR 5L
Description
A concentrated, industrial-strength, multi-purpose disinfectant and surface cleaner. Added pine oil to aid cleaning and antibacterial qualities along with providing a fresh clean smell. Kills 99.9% of germs, and is suitable as an all-purpose floor, bathroom, kitchen, toilet cleaner. It removes dirt, oil, smears, smudges, and soils from a variety of surfaces including plastic, glass, metal, natural stone, porcelain, and fiberglass.
Can be either mopped or sprayed onto surfaces.
Once Diluted, can be sprayed or mopped onto surfaces
MPI APPROVAL: C44
Interesting fact: Pine oil is a fantastic natural, water-based, all-purpose cleaner, disinfectant, and anti-fungal ingredient. Pine oil is long-lasting 'forest fresh deodoriser', and assists in a clean, sanitary, and fresh clean.
Features:
-Industrial Strength
-Fresh Pine Fragrance
-Surface & Floor Suitable
-Food Service Approved
-Biodegradable and Environmentally Friendly