Home

/

VIROKILL - RTU, (VIR-R-5L) ANTI-BAC/FUNGAL/VIRAL SPRAY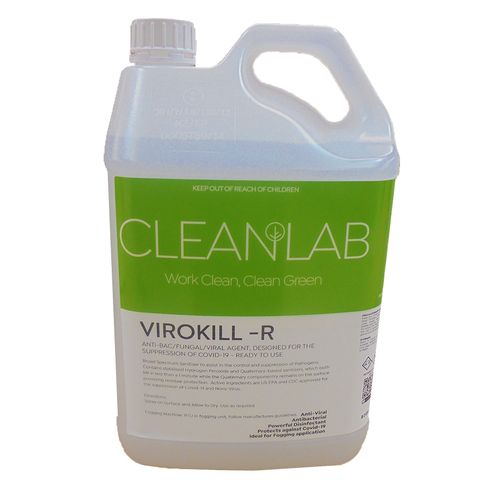 VIROKILL - RTU, (VIR-R-5L) ANTI-BAC/FUNGAL/VIRAL SPRAY
Description
VIROKILL - RTU 5L

ANTI-BAC/FUNGAL/VIRAL SANITISER, DESIGNED FOR THE SUPPRESSION OF COVID-19
SIZE: 5L

Broad Spectrum Sanitiser to assist in the control and suppression of Pathogens.
Contains stabilised Hydrogen Peroxide and Quaternary-based sanitizers, which
both kill in less than 1 minute while the Quaternary componentry remains on the
surface providing residual protection. Active ingredients are US EPA and
CDC approved for the suppression of Covid-19 and Noro-Virus. Also contains
Silver, as a Natural Antimicrobial disinfectant, ensuring it kills and protects
against the widest range of pathogens and bacteria.

Ideal for, Education Providers, Hospitals, Stadiums, Public Transport
Operators, Churches, Supermarkets, and Agedcare Facilities.




Directions:

Spray on Surface and Allow to Dry. Use as required



Fogging Machine: RTU in fogging unit, follow manufactures guidelines.



Precautions:

As with any Sanitiser/Disinfectant, avoid inhalation, contact with eyes and
keep out of reach of Children




KEY POINTS:

Antibacterial
Powerful Disinfectant
Contains Natural Silver

Protects against Covid-19